Sales Success In Challenging Times
Coronavirus completely changed audience and buyer behaviour and in turn that's changing the experience that sales people need to deliver. Sales has just got even harder.
The sales experience has become the most important factor when buyers are choosing suppliers, and what constitutes a 'great sales experience' is fundamentally changing.
Knowing what great selling looks like in this changed world is vital for success.
Cameron Carnegie offers a broad range of Sales and Business Development consulting services that support your strategies for change and growth. We specialise in practical work sessions designed to help you develop or redirect your drive for new or increased sales.
Our services include:
Sales Effectiveness Analysis to identify sector opportunities for growth and ensure key stakeholders can asses those most likely to return the greatest profitability.
Selling Process Assessment to ensure an effective Sales process is in place and not one which acts as a barrier to growth. Ensuring all stakeholders involved in the sales process understand their role and its importance.
Sales Management Evaluation to support sales leaders drive team engagement and performance.
Salesperson Assessment to identify key strengths and weaknesses, redefine priorities if required and identify skill gaps for personal development.
Our Sales Consulting Model
1
Assess
Understand your business, sales strategy, objectives and competitive position
Identify your target vision
Assess gaps needed to reach your target vision
2
Prioritise
Prioritise and agree on strategies to "close the gap"
Define the work needed for each strategy
Secure buy-in
Finalise budgets
Prepare Work Plan and Timeframes
3
Collaborate
Establish "Success Milestones" for each initiative
Build key teams to develop and design solutions
Set key milestone reviews with Sales Team
4
Implement
Implement solutions to targeted client base. These will cover B2B, Online and development of existing client bases.
5
Evaluate
Evaluate results based on agreed metrics
Continuously assess where improvements need to be made by setting future review dates.
You may already know where you want to focus, or you may need our expertise to help you sort through the challenges. Either way, we will help you pinpoint the issues and work with you to develop an approach that makes sense for you.
Each solution to a respective challenge should be defined with a solid implementation plan. We will work with you, on an interim basis to help drive the desired change.
Key Account Management
The next 12 months are going to be incredibly difficult for most sales teams - hitting target is going to be tough. Where are the sales going to come from? Key accounts and developing revenue via existing relationships is a great place to start.
Having an effective Key Account management strategy is critical for growing and retaining revenue. It's both a defensive and aggressive strategy that looks to safeguard existing business and develop new opportunities.
In KAM, direct selling, 'push' activities are replaced by creating 'demand pull'. Once the relationship has been established, growing business is about creating more opportunities through developing a wider interface with the customer.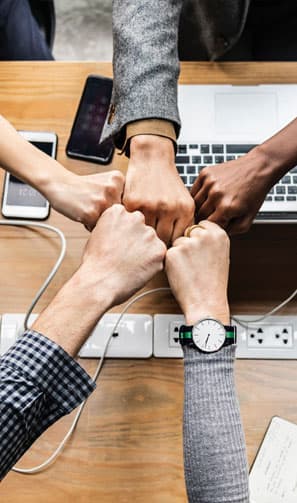 Our Account Management strategies will allow you to both retain and win new customer business and show you how to build long term account management plans that add value and build revenue.
Call 01224 021777 ext 777 or email This email address is being protected from spambots. You need JavaScript enabled to view it. to get started!